» Log in
User Name:
Password:
Remember Me?
Not a member yet?
Register Now!
» Events & Happenings
Looking for an off-road park in your area? Check our listings here.
» FTF Mustang Club
FTF Mustang Club, check it out here
» Autogeek
» Advertise on FTF
Want to advertise on Ford Truck Fanatics, then just click here: advertise
» Home Welcome
Welcome to Ford Truck Fanatics! We put this site together in hopes that we could develop a top-notch Ford Truck resource. We welcome you to join our forums. We're active in Ford Truck discussion, tech discussion, and general conversation. We have a fantastic group of people that is second to none. We're hoping you'll join us by registering in our Ford Truck Forums.

Thanks for stopping by, and we hope to see you again soon!

Your FTF Team


» Truck of the Month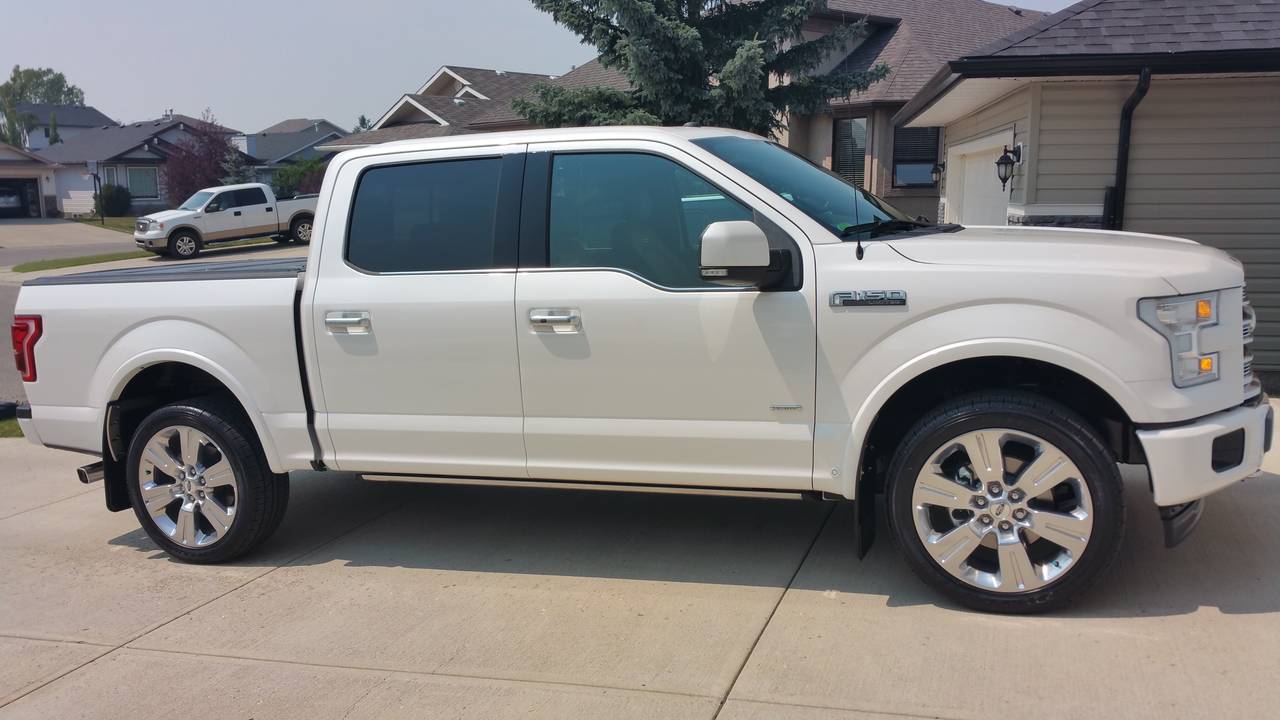 /



January 2018 Featured Truck

The January 2018 Featured Truck belongs to
Krazykat

From Krazykat:


So, in July,2017, I was t-boned by a guy running a red light and not only did it hurt me physically, it destroyed my beloved Lincoln MKT.

I started shopping for a new Lincoln. They are gorgeous. I test drove a Continental, I tried loving an MKX, and I just wasn't feeling it. I tried, but nothing.

Out of the blue, I asked the salesman about pick-ups. He said, "I have some pick-ups here. Let's go look."

We went out to the yard, walked by an F-150 Platinum which looked pretty sweet but moved on to the 2017 F-150 Limited. I had done no research nor did I even consider buying a pick-up, but when I opened the door, I instantly absorbed the new truck aroma, and I looked up at my hubby and said, "Yes!"

We went for a drive, and through the whole experience, I said, "Yes!" And sorry hubby, I was not talking about sex, but instead it was instant bond with this beautiful truck.

OMG! It is so awesome in every aspect. It is by far my most favourite vehicle I have ever driven! And it is beautiful too :-)

P.S. Since the accident, my body is mending, and there is a part of me that is grateful for the accident because it lead me to this beautiful, beautiful truck!


» FTF Feature Video
Member Dalton Sexton's truck
» Mission Statement

Mission Statement

Ford Truck Fanatics is a website dedicated to being a top-notch Ford Truck resource & community. Our Ford Truck forum houses some of the best troubleshooting and repair advice on the net. We work hard to help our members get the most out of our forums. Whether your question is about Ford Truck Parts or you seek answers from a certified Ford technician, Ford Truck Fanatics will be your favorite information source.

Your FTF Team
» Tower Advertisement

src="http://pagead2.googlesyndication.com/pagead/show_ads.js">

» National Express
» Vote now
Vote For FTF
» Bass pro
» a1autotransport.com
» Parts Geek
» Visitor Map